TAKE A TRIP TO LYMINGTON
If you are looking for new places to visit when on the water with RIB Shack Marine, why not consider Lymington. A pretty town in the New Forest and home to the Olympic sailor Sir Ben Ainslie.

Where to moor
The nearest marina to the town centre is Berthon Marina who know RIB Shack very well. We use Berthon Marina for those owners whose home base is Lymington. It takes about 5 minutes to walk to the little cobbled quay front. Here you will walk past The Ship, a pub that offers good food with a wide variety of choices.  A further 3-4 minute walk up the cobbled street, brings you to the bottom of the High Street.
The only other marina in Lymington is Yachthaven, it is a slighter longer walk from the marina to the town centre, but this marina does have a restaurant called The Haven which has a good variety of fish on its menu and great views out over the water. From here you can also walk to The Mayflower pub.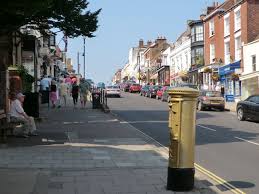 What to see and do
It's an uphill walk to the top of the High Street from the marina. The only advantage is that it's downhill upon your return! Don't worry, it's not too steep and it does even out.
On Saturdays there is a market that stretches the whole length of the High Street, where you can buy knick knacks, crafts, jewellery, clothes and fruit, meat, fish, fresh bread, homemade cupcakes, dog food, pies, pillows and much more!
There are plenty of shops for the boating fraternity Quba, Henri Lloyd, Crew, Fat Face, Joules. Mixed in with Phase 8, Mistral, New Look, Elliotts, which sells very good quality men and womens clothing, shoes and accessories. There are also a sprinking of the main retailers too plus some lovely independent shops.  Most of the major banks can also be found in the High Street and all have cashpoints.
If you are looking for somewhere to eat, there is no shortage of choice. From the boutique hotel Stanwells which has a great restaurant (and a lovely clothes shop!), The Angel and Blue pig to chain restuarants. There are also lots of delightful coffee shops offering lunches and afternoon teas.

A little further afield
If you fancy stretching your legs there is a beautiful walk along the Lymington Sea Wall. You can walk as far as you want 2 hours and you will make it to Milford On Sea but then you have to walk back!
St Barbe Museum and Art Gallery is a local museum and art gallery tucked down one of the side streets in Lymington. St Barbe presents local history and art, covering social history.
There is a little park the opposite side of Berthon Marina heading away from the town centre, nice to pick up an ice cream from one of the shops in the cobbled street and wander down and enjoy in the park.
A 20-25 minute walk from the bottom of the High Street and you can reach the ferry terminal where you can cross as a foot passenger to Yarmouth on the Isle of Wight. Prices for an adult are reasonable at approximately £24 per person. If you wanted to visit for the evening, leave after 4pm and it will cost approximately £14.
For more information please visit the following websites;